---
Custom Built Bird Feeders
---
Bill.....the feeders arrived yesterday and we unpacked them this morning. They arrived in perfect condition and are absolutely wonderful.......perfect for where they will hang! Thank you.
Jay Kendig
---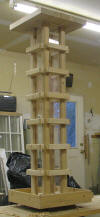 Hello Bill,

Just wanted you to know the feeder is installed and working beautifully - it took all but a small amount of a 50 lb. bag of hulled sunflower seed kernels to fill it full to overflowing.

The Farmers Elevator could not provide the usual sunflowers fines that they have had for many years; so, until the fines become available they had to take what they could get. Well, at first I thought the large full kernel
seeds would be great; however, I soon found out that rather then perch and feed as the birds normally do with the fines they grab a kernel and fly off to eat it or stash it; so, the feeder is more like an airport than
a gathering place to feed.

Anyhow, the Elevator is trying to locate some fines for the next fill..........it looks like the birds are moving two windows per week so far in rather mild weather; so, I am curious as to how much seed will disappear
when the weather gets ugly? Plus, I am wondering if the fines will last longer since the birds need to stay and feed rather than grab and go - so time will tell on that account.

I don't have a digital camera and I depend on my neighbor to take any photos for me; so, not sure how long it will take to get him to come by and snap a few to send off but hopefully one of these days before Spring I
can ask him to come by for a look at the feeder and ask him to bring his camera with him?

Anyhow, I got a 30" length of steel pipe and got another flange to bolt into a 4x4 piece of 3/4 inch outdoor plywood to mount the feeder until I can decide if I want to make it permanent with concrete or not this summer?

Thanks again, for your help in making this project a success.

Peace of Jesus Christ,
Tom.
---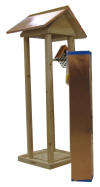 Hi there, Bill!
Its doing absolutely great, thank you! A friend suggested I varnish it with marine varnish before putting it outside since we live in a rain forest, and by golly, its looking and doing great out there despite the inclement weather we have much of the time.
Thank you for such a beautiful, high quality, sturdy feeder!
Lisa L. White
Juneau, Alaska
---
Bill:

Thought I would give you some feedback on the custom feeder you built for me about a month ago. All positive of course. The feeder ended up holding about 65 lbs. of seed. Word spread quickly throughout the bird community and I think every bird in the neighbor is now a regular visitor. Black capped chickadees, cardinals, titmice, blue jays, nuthatches, finches, red bellied woodpeckers, downy woodpeckers, and any other local bird you can think of has been fed. No squirrels as of yet. The copper sleeve is working fantastic. After the feeder was first placed several attempts to ascend the post were made, all unsuccessful. Now even the squirrels have realized that climbing the copper sleeve is an exercise in futility and no longer try. Must say that I am completely satisfied, and if I ever need another huge bird feeder, you are my man. Happy holidays and best wishes. Thanks again.

- Richard
---
Bill,
just saw my new feeder - sturdy for sure!! I am VERY pleased--so happy I found your 'site' - When I get installed and have some 'customers' I'll send you a photo or two.

I have had the best luck with just straight sunflower seeds--even the litle guys seem to prefer--your opinion please-- In closing, if can help via 'referals' ec., I 'm your man - very satisfied

- jim - Oregon

---
Yes, it is perfect. Just what I needed :) - Name and Address Witheld